We are all in the same boat
about red wine and masked emotions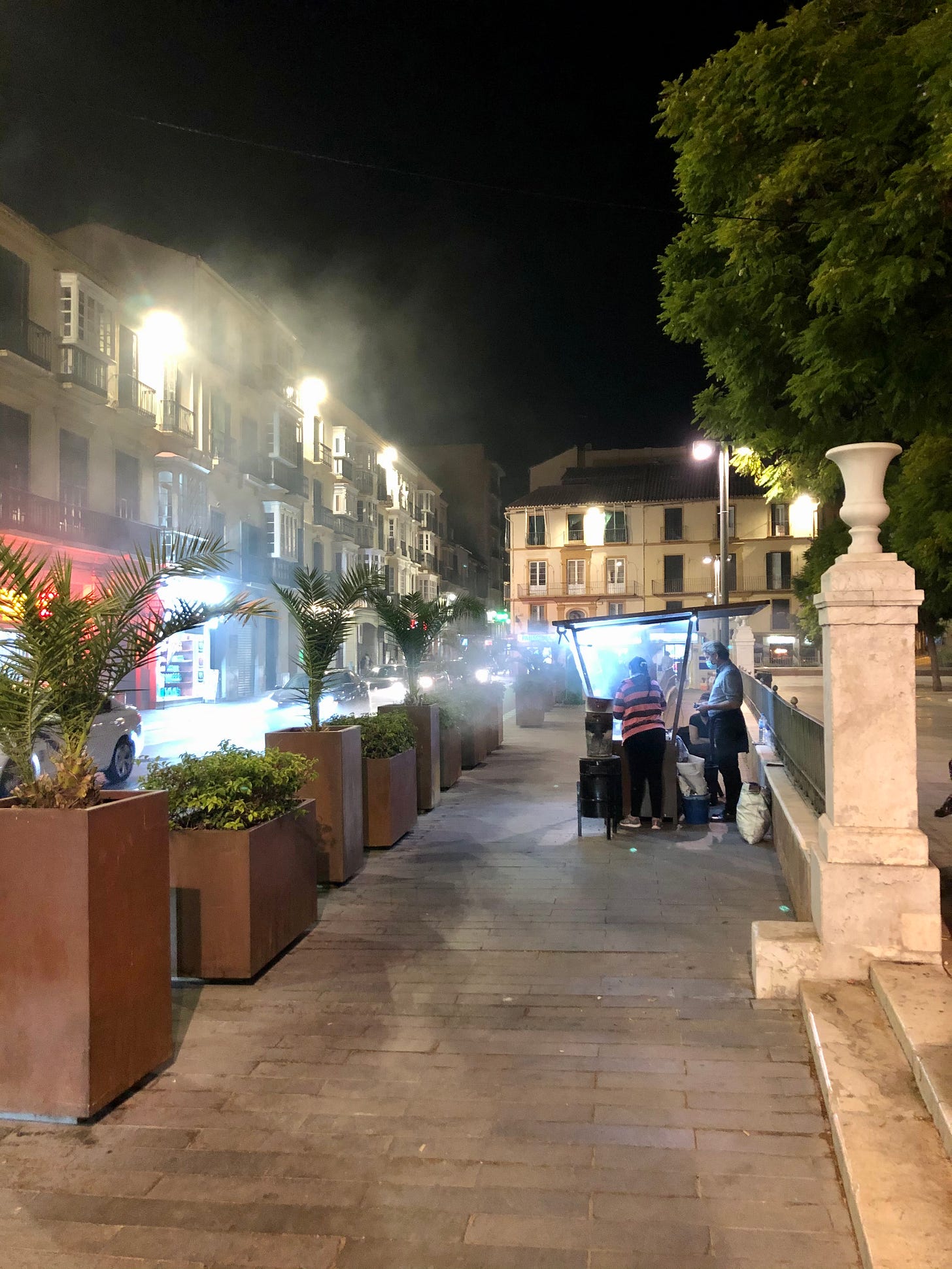 We are, after all, all in the same boat. His mask covers, what I expect to be a toothless mouth. His eyes are a soft green with a touching tenderness. His hands clearly not treated according to Covid protocol. Times are tough, he continues. There are many others out on the streets these days asking for help and he understands people are not prepared to give to them all. Es duro para todos (It's hard for everyone). The hardest part was during the 7 week lockdown he says, when there were no people on the streets and everything was closed. He thanks us for taking the time to talk, Most people won't even look at me.
As the live music starts inside the bar, a guitarist approaches from across the road playing the Bamboleo collection that normally, I imagine, has a great reception amongst the tourists. Only, there are no tourists. The elatement that occurs when one finds oneself in new exotic territory without the daily responsibilities, clearly impacts the vibe of a city. We know that because we miss it now.
He plays another few songs and comes by our table for a tip. I feel that his heart wasn't really in it and ask him to play one last one before he moves onto the next stage. Ok, but then I'll play something I made myself. His posture changes and his eyes close in that -search for creative spirit- way. Are those goosebumps on my arm? I look at Paul and see he's feeling it too. I ask him why he didn't play more of his own creations Ahhh, people just like the Bamboleo stuff that they know. His expression, I have to partially guess, insinuates a disappointment about the superficiality of humanity. 
We order another tapa and a glass of Ribera. We are enjoying the outing which in the new normal, we don't do so much. The masked world is a place I don't want to get used to and our current budget isn't allowing too much hedonism.
On the way home we are entertained by a juggler at the traffic lights. It's not only the soft Argentinian accent in the gracias that reminds us of a South American setting. 
In the same boat? Well, we're all in the same sea but we are definitely on a cruise ship.